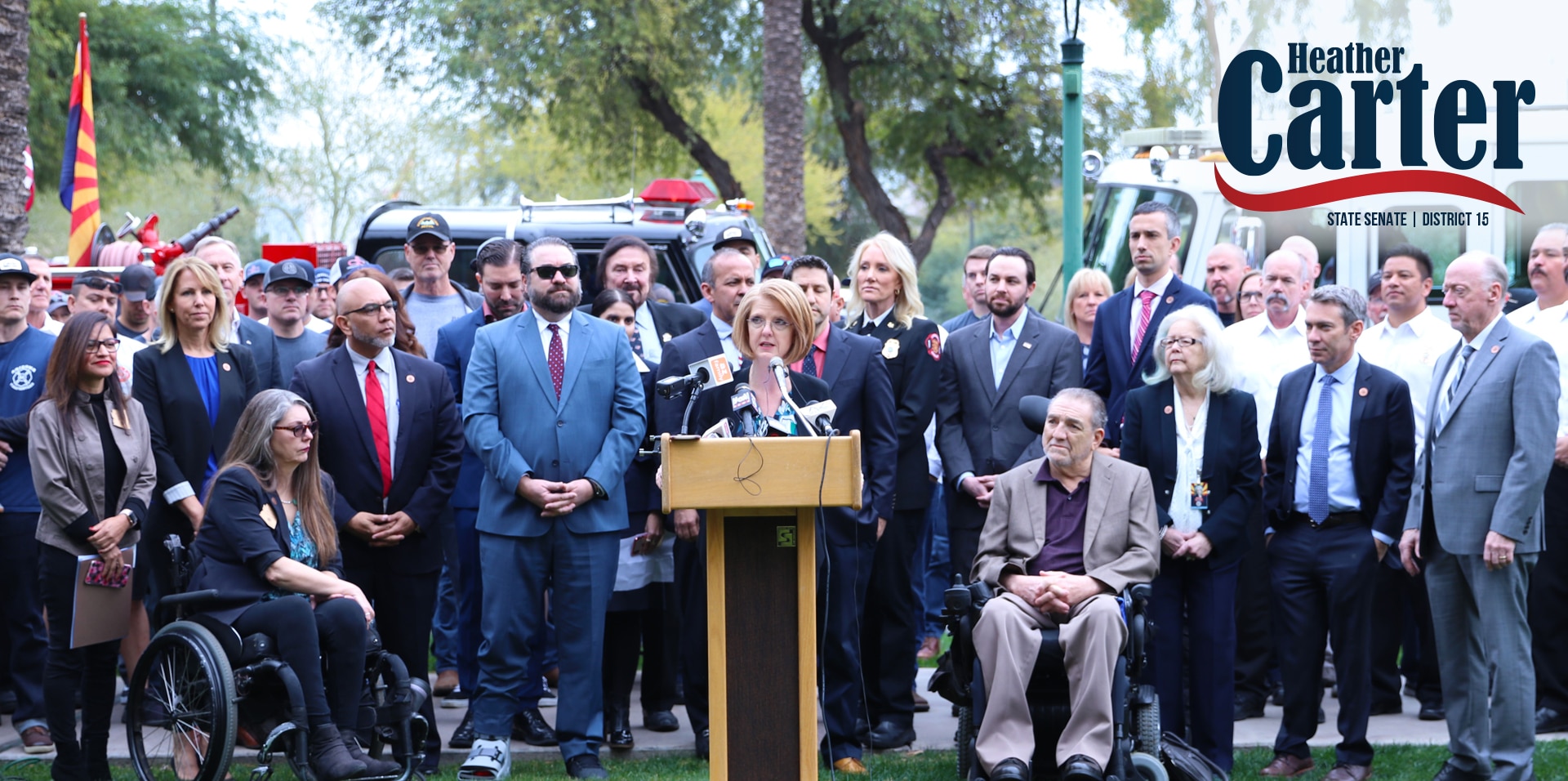 Since first being elected in 2010, Senator Heather Carter has worked to ensure that Arizona is well positioned for the 21st century. She is a leading voice in the Arizona Senate for commonsense solutions. She has demonstrated a commitment to civil discourse and civility, respecting different opinions and working towards solutions through building consensus.
As an Arizona Senator Carter will continue to be a champion for issues affecting Arizona. Her priorities as a State Senator include:
Health Care
As Vice Chairwoman of the Senate Health Committee, Senator Carter has fought relentlessly for healthcare reforms which provide more patient choice, more transparency, and lower costs. Advocating for patients, protecting seniors and spearheading dozens of impactful pieces of legislation that improve patients' quality of life has earned her recognition from a wide range of healthcare organizations. She is an outspoken leader in the fight against drug abuse and was at the forefront of combatting the opioid epidemic. Senator Carter understands that supporting dynamic innovation and research programs allows Arizona to continue delivering world-class health care.
Education
A strong education system is the cornerstone of a strong democracy and imperative for a thriving Arizona economy. Employers rely on an educated workforce, so it is critical that K-12, community colleges and university systems challenge Arizona students to succeed. It is vitally important that the AZ Legislature increases teacher salaries to remain competitive with neighboring states to recruit and retain great teachers. Arizona should pay teachers on a market-based system so the best teachers are rewarded for excellent performance. Senator Carter believes schools need the appropriate level of funding including for school supplies, technology and capital improvements. She supports spending tax dollars wisely by creating a system based in accountability and transparency while eliminating redundancy, inefficiency and unfunded mandates. Each child is unique with unique learning needs. She knows it is important that parents have the opportunity to pick the best education system for their child so the next generation is prepared to be responsible stewards of democracy.
Jobs and the Economy
The key to any state's success is a strong and growing economy. Senator Carter understands for employers to grow and create new jobs, Arizona must streamline government bureaucracies, reduce burdensome regulations and support local businesses. The role of government should be to ensure an equal playing field, then get out of the way so the free-market can do its job. As a Representative, she has lowered taxes and worked to pass two jobs packages that make Arizona one of the top states for new business development. She has supported the enhancement of Arizona's economic engines by investing in key infrastructure, supporting a $1 billion bonding package for state universities and responsible development of state trust lands. Implementing pro-business policies has helped diversify the economy and brought high-wage jobs to Arizona.
Balanced Budget
When Senator Carter was first elected to office, the state was in the midst of the greatest economic crisis Arizona had ever seen. Understanding the importance of stabilizing the budget and her careful attention to limited, strategic government functions, she worked with her colleagues to ensure Arizona has a structurally balanced budget. She has supported a long-term budget plan, and diligently worked to establish a three-year budget to safeguard against future potential crises. As Arizona families create long-term spending and saving plans, so must the state.
Public Safety
Part of the responsibility of being a state legislator is to create laws that protect families and neighborhoods. Senator Carter believes the safety of Arizona families can never be taken for granted. To improve the quality of life for Arizona citizens, she has led the fight to crack down on pill mills, tackled substance abuse and opioid addiction as well as instituted public notice standards for relocation of correctional facilities. She has helped implement recidivism and diversion programs to reduce prison overcrowding.
Border Policy
Senator Carter believes in a simple, yet effective approach to dealing with illegal border crossing. She understands we must secure the border by funding the most effective tools available to law enforcement, including physical barriers, technology and additional law enforcement personnel. She is committed to continue working with local law enforcement on interdiction efforts to prevent drug and human smuggling. Whether by fence, force, technology, or some combination, Senator Carter will pursue border solutions that best protect Arizona residents.
Family and Life
Senator Carter strongly believes the focus should be on strengthening the family unit, including parents having more time to spend with their children and taking care of their aging loved ones. She is committed to protecting Arizona families from government intrusion while promoting equal rights. She has a proven record of caring for Arizona's vulnerable populations and advancing child welfare policies including reforming the Department of Child Services, strengthening foster families and improving adoption services. Senator Carter is pro-life.
The issues above are the topics that she is most frequently asked about. She knows that each and every person has a unique issue or perspective, which is why she encourages voters to contact her with questions or concerns: Heather@VoteHeatherCarter.com.
Arizona State Fifty-fourth Legislature (2019, 2020)
• Appropriations
• Vice-Chair, Health and Human Services
• Chair, Higher Education and Workforce Development
Arizona State Fifty-third Legislature (2017, 2018)
• Chair, Health Committee
• Vice Chair, Sub-appropriations Education Finance Committee
• Member, Appropriation Committee
• Member, Joint Legislative Committee on Capital Review
• Joint Legislative Oversight Committee on Department of Child Safety
• Chair, Diabetes Caucus
• Chair, Senior Caucus
• Chair, Study Committee: Pediatric Autoimmune Neuropsychiatric Disorders Associated with Streptococcal Infections
• Co-Chair, Joint Senate and House Committee of Reference (COR): Health
• Chair, Ad Hoc Committee on Health Care Workforce
• Chair, Ad Hoc Committee on Expansion of Certificate of Necessity Service Areas
• Chair, Ad Hoc Committee on Juvenile Justice Reform and Adobe Mountain
• Member, Education Commission of the States
Arizona State Fifty-second Legislature (2015, 2016)
• Chair, Health Committee
• Chair, Study Committee: Aspects of Contact Lens Market
• Chair, Diabetes Caucus
• Chair, Study Committee: Pediatric Autoimmune Neuropsychiatric Disorders Associated with Streptococcal Infections
• Co-Chair, Study Committee: Education Data Systems
• Co-Chair, Joint Senate and House Committee of Reference (COR): Health
• Member, Elections Committee
• Member, Energy, Environment and Natural Resources
• Member, Joint Senate and House COR: Environment
Arizona State Fifty-first Legislature (2013, 2014)
• Chair, Health Committee
• Chair, Diabetes Caucus
• Chair, Study Committee: District School Charter Conversion
• Chair, Study Committee: Education Longitudinal Data System
• Chair, Study Committee: Electronic Processing and Uniform Prior Authorization for Prescription Medications
• Co-Chair, Joint Senate and House COR: Health
• Member, Education Committee
Arizona State Fiftieth Legislature (2011, 2012)
• Chair, Study Committee: Education Longitudinal Data System
• Vice Chair, Health and Human Services
• Member, Education Committee
• Member, Environment Committee
• Member, Joint Senate and House COR: Health, Education
Healthcare Related
SB1089 - Insurance; telemedicine (2019)

HB2042 - Insurance coverage; telemedicine; urology (2018)

SB1105 Direct primary care agreements (2019)
SB1211 Intermediate care facilities (Hacienda) (2019)
SB1352 Health care directives registry; transfer (2019)
HB2086 Schools; diabetes management; pharmacists (2018)
HB2197 Health professionals; workforce data (2018)
HB2323 Schools; inhalers; contracted nurses (2018) and HB2208 NOW: Inhaler administration; schools (2017)
HB2076 Advanced directives registry; provider access (2017)
HB2640 Appropriation pediatric neurological autoimmune disorders (2016)
HB2502 Medical licensure compact (2016), HB2363 Nursing compact (2016), HB2503 Psychologists; licensure compact (2016), HB 2504 Physical therapy licensure compact
HB2489 EMTs; peace officers; naloxone administration (2015)
HB2369 Electronic medical records (2012)
EDUCATION
SB1340 – ABOR; university scholarships; report (2019)
HB2534 – teachers; certification requirements (2018)
HB2657 – interscholastic activities; health dangers; information (2018)
HB2078 – schools; concurrent enrollment (2017)
HB2134 – schools; children's camps; sunscreen use (2017)
HB2605 – teachers; suicide prevention; continuing education (2014)
HB2042 – NOW: schools; pupils with diabetes (2013)
Tackling Arizona's Drug Crisis
SB1029 – Qualifying physicians; opiate-dependent patients (2019)
HB2038 – drug overdose review teams; records (2018)
HB2548 – health professionals; continuing education; opioids (2018)
HB2549 – controlled substances; dosage limit (2018)
HB2211 – NOW: corrections; treatment programs; annual report (2017)
HB2033 – controlled substances; definition (2017)
HB2307 – controlled substances prescription monitoring program (2017)
HB2373 – tobacco settlement; Indian tribes; information (2017)
HB2493 – drug overdose; review team; confidentiality (2017)
HB2355 – opioid antagonists; prescription; dispensing; administration (2016)
HB2139 – controlled substances; schedules (2015)
HB2645 – NOW: laboratory testing without order (2015)
HB2263 – methamphetamine precursor logging system (2012)
Constituent Champion
SB1338 – Veteran special plates; branch seal (2019)
SB1528 – Video service providers; license (2019)
HB2046 – department of economic security; continuation (2018)
HB2191 – military families; assistance; subaccounts (2018)
HB2192 – military family relief fund; extension (2018)
HB2494 – NOW: civil liability; vehicles; minors; animals (2017)
HB2133 – correctional facilities; community notification (2017)
HB2488 – housing assistance; seriously mentally ill (2015)
HB2401 – service animal; definition (2013)
HB2066 – definitions; archaic language; removal (2013)
HB2370 – death certificates (2012)
HB2165 – NOW: veterans; employment preference (2012)
HB2543 – NOW: state highway; signage; nonprofit museum (2012)
HB2552 – agricultural property tax classification; equine (2011)
HB2245 – NOW: homeowners' associations; open meetings; recordings (2011)
HB2246 – NOW: ADOT; emergency vehicle access plan (2011)
HB2717 – homeowners' associations; penalties; attorney fees (2011)